Originally published at: The Best Cities To Live in Spain | GoVisaFree


Choosing the best cities in Spain to live in is not an easy task. For some people, the cost of living is the most relevant factor, while for others it may be the quality of life or even the climate.
In our best cities to live in Spain, we've brought together the top seven locations, taking into account the advantages and disadvantages of each of them. We've also added some coworking spaces options hoping that it'll give you a better understanding of the digital nomad community in each specific city.
The Seven Best Cities in Spain
1. Madrid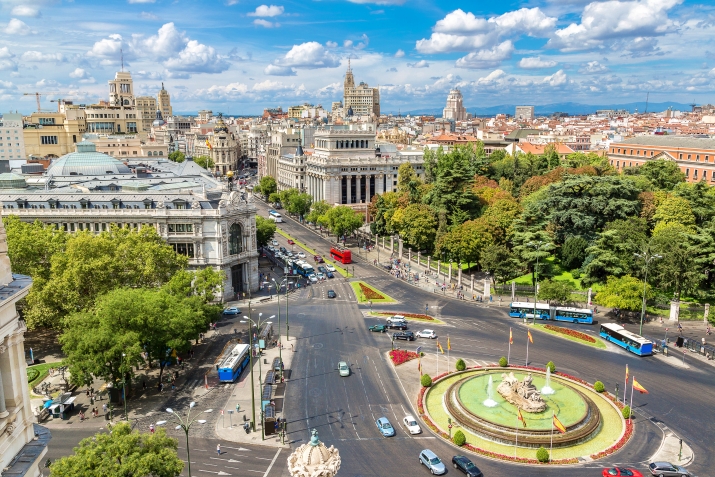 At the top of the list of the best cities in Spain to live in, we have chosen the beautiful Spanish capital, Madrid.
Despite having a high cost of living and some of the most expensive real estate in the country, Madrid is the best-connected city in Spain. If you choose to live in Madrid, you can easily explore the rest of the country thanks to the efficient infrastructure.
Madrid hosts a number of highly anticipated yearly events, as well as superb shopping opportunities and a number of cinemas and theaters that host performances throughout the year. Sidewalk cafes, restaurants, bustling pubs, and nightclubs make the city an ideal location for digital nomads who want to experience an active lifestyle.
Best Coworking Spaces in Madrid
The Shed
Espíritu23
Urban Campus Jerónimo
			</div>
			</div>
				</div>
	</div>
						</div>
	</section>
			<section class="elementor-section elementor-top-section elementor-element elementor-element-cc9b607 elementor-section-boxed elementor-section-height-default elementor-section-height-default" data-id="cc9b607" data-element_type="section">
					<div class="elementor-container elementor-column-gap-default">
				<div class="elementor-column elementor-col-100 elementor-top-column elementor-element elementor-element-dd7d8d6" data-id="dd7d8d6" data-element_type="column">
		<div class="elementor-widget-wrap elementor-element-populated">
							<div class="elementor-element elementor-element-2326a86 elementor-widget elementor-widget-text-editor" data-id="2326a86" data-element_type="widget" data-widget_type="text-editor.default">
			<div class="elementor-widget-container">
						<h3><span class="ez-toc-section" id="Coliving_Spaces_in_Madrid"></span>Coliving Spaces in Madrid<span class="ez-toc-section-end"></span></h3>						</div>
			</div>
				</div>
	</div>
						</div>
	</section>
			<section class="elementor-section elementor-top-section elementor-element elementor-element-208e45b elementor-section-boxed elementor-section-height-default elementor-section-height-default" data-id="208e45b" data-element_type="section">
					<div class="elementor-container elementor-column-gap-default">
				<div class="elementor-column elementor-col-100 elementor-top-column elementor-element elementor-element-c2d9778" data-id="c2d9778" data-element_type="column">
		<div class="elementor-widget-wrap elementor-element-populated">
							<div class="elementor-element elementor-element-8e4c20d elementor-widget elementor-widget-google_maps" data-id="8e4c20d" data-element_type="widget" data-widget_type="google_maps.default">
			<div class="elementor-widget-container">
				<div class="elementor-custom-embed">
		<iframe frameborder="0" scrolling="no" marginheight="0" marginwidth="0"
				src="https://maps.google.com/maps?q=coliving%20madrid&#038;t=m&#038;z=10&#038;output=embed&#038;iwloc=near"
				title="coliving madrid"
				aria-label="coliving madrid"
		></iframe>
	</div>
			</div>
			</div>
				</div>
	</div>
						</div>
	</section>
			<section class="elementor-section elementor-top-section elementor-element elementor-element-9a5f01a elementor-section-boxed elementor-section-height-default elementor-section-height-default" data-id="9a5f01a" data-element_type="section">
					<div class="elementor-container elementor-column-gap-default">
				<div class="elementor-column elementor-col-50 elementor-top-column elementor-element elementor-element-46924ea" data-id="46924ea" data-element_type="column">
		<div class="elementor-widget-wrap elementor-element-populated">
							<div class="elementor-element elementor-element-542611b elementor-widget elementor-widget-gvf-pros-cons" data-id="542611b" data-element_type="widget" data-widget_type="gvf-pros-cons.default">
			<div class="elementor-widget-container">
		    <div class="gvf-pac gvf-pac-wrapper gvf-pac-pros">
  <h3 class="gvf-pac-title"><span class="ez-toc-section" id="Advantages_of_living_in_Madrid"></span>Advantages of living in Madrid<span class="ez-toc-section-end"></span></h3>      <ul class="gvf-pac-items">
              <li >Culture and nightlife

A cosmopolitan city
Many parks and green areas
			</div>
			</div>
				</div>
	</div>
			<div class="elementor-column elementor-col-50 elementor-top-column elementor-element elementor-element-cde8e22" data-id="cde8e22" data-element_type="column">
		<div class="elementor-widget-wrap elementor-element-populated">
							<div class="elementor-element elementor-element-f8a69cf elementor-widget elementor-widget-gvf-pros-cons" data-id="f8a69cf" data-element_type="widget" data-widget_type="gvf-pros-cons.default">
			<div class="elementor-widget-container">
		    <div class="gvf-pac gvf-pac-wrapper gvf-pac-cons">
  <h3 class="gvf-pac-title"><span class="ez-toc-section" id="Disadvantages_of_living_in_Madrid"></span>Disadvantages of living in Madrid<span class="ez-toc-section-end"></span></h3>      <ul class="gvf-pac-items">
              <li >Expensive rents

Safety can be an issue
			</div>
			</div>
				</div>
	</div>
						</div>
	</section>
			<section class="elementor-section elementor-top-section elementor-element elementor-element-de6d67b elementor-section-boxed elementor-section-height-default elementor-section-height-default" data-id="de6d67b" data-element_type="section">
					<div class="elementor-container elementor-column-gap-default">
				<div class="elementor-column elementor-col-100 elementor-top-column elementor-element elementor-element-45deea7" data-id="45deea7" data-element_type="column">
		<div class="elementor-widget-wrap elementor-element-populated">
							<div class="elementor-element elementor-element-e3fe54f elementor-widget elementor-widget-text-editor" data-id="e3fe54f" data-element_type="widget" data-widget_type="text-editor.default">
			<div class="elementor-widget-container">
						<h3><span class="ez-toc-section" id="Cost_of_Living_in_Madrid"></span><b>Cost of Living in Madrid</b><span class="ez-toc-section-end"></span></h3><ul><li>Estimated monthly costs for a single person are €750 (excluding rent)</li><li>Estimated rent for a 1-bedroom apartment in the city center: €990</li><li>Estimated rent for a 1-bedroom apartment outside the city center: €780</li></ul>						</div>
			</div>
				</div>
	</div>
						</div>
	</section>
			<section class="elementor-section elementor-top-section elementor-element elementor-element-2aac611 elementor-section-boxed elementor-section-height-default elementor-section-height-default" data-id="2aac611" data-element_type="section">
					<div class="elementor-container elementor-column-gap-default">
				<div class="elementor-column elementor-col-100 elementor-top-column elementor-element elementor-element-197c57a" data-id="197c57a" data-element_type="column">
		<div class="elementor-widget-wrap elementor-element-populated">
							<div class="elementor-element elementor-element-30939a0 gvf-divider-style1 elementor-widget elementor-widget-gvf-divider" data-id="30939a0" data-element_type="widget" data-widget_type="gvf-divider.default">
			<div class="elementor-widget-container">
		<div></div>		</div>
			</div>
				</div>
	</div>
						</div>
	</section>
			<section class="elementor-section elementor-top-section elementor-element elementor-element-d68b0c6 elementor-section-boxed elementor-section-height-default elementor-section-height-default" data-id="d68b0c6" data-element_type="section">
					<div class="elementor-container elementor-column-gap-default">
				<div class="elementor-column elementor-col-100 elementor-top-column elementor-element elementor-element-6f7c091" data-id="6f7c091" data-element_type="column">
		<div class="elementor-widget-wrap elementor-element-populated">
							<div class="elementor-element elementor-element-416de7f elementor-widget elementor-widget-text-editor" data-id="416de7f" data-element_type="widget" data-widget_type="text-editor.default">
			<div class="elementor-widget-container">
						<h2><span class="ez-toc-section" id="2_Barcelona"></span><b>2. Barcelona</b><span class="ez-toc-section-end"></span></h2><p><img loading="lazy" class="alignnone wp-image-25940 size-full" src="https://govisafree.com/wp-content/uploads/2022/03/barcelona.jpg" alt="" width="715" height="479" srcset="https://govisafree.com/wp-content/uploads/2022/03/barcelona.jpg 715w, https://govisafree.com/wp-content/uploads/2022/03/barcelona-300x201.jpg 300w" sizes="(max-width: 715px) 100vw, 715px" /></p><p><span style="font-weight: 400;">The best cities to live in Spain list wouldn't be complete without Barcelona. Despite being one of the cities with the highest cost of living in the country, Barcelona is one of Spain&#8217;s most popular cities, attracting millions of people from all over the world each year with its vibrant cultural scene, breath-taking colorful architecture, and almost year-round sunshine. </span></p><p><span style="font-weight: 400;">Thanks to the work-life balance it offers, Barcelona has also become a digital nomad hub. </span></p><p><span style="font-weight: 400;">What makes Barcelona so unique is that it is one of those unique places that combines sun, sea, and metropolitan vibes in one location. You never have to travel far to get away from the crowds, and the city itself has a busy waterfront area that is ideal for relaxing, socializing, and meeting new people.</span></p>						</div>
			</div>
				</div>
	</div>
						</div>
	</section>
			<section class="elementor-section elementor-top-section elementor-element elementor-element-d487e9f elementor-section-boxed elementor-section-height-default elementor-section-height-default" data-id="d487e9f" data-element_type="section">
					<div class="elementor-container elementor-column-gap-default">
				<div class="elementor-column elementor-col-100 elementor-top-column elementor-element elementor-element-dfa0269" data-id="dfa0269" data-element_type="column">
		<div class="elementor-widget-wrap elementor-element-populated">
							<div class="elementor-element elementor-element-99790d2 elementor-widget elementor-widget-gvf-pros-cons" data-id="99790d2" data-element_type="widget" data-widget_type="gvf-pros-cons.default">
			<div class="elementor-widget-container">
		    <div class="gvf-pac gvf-pac-wrapper gvf-pac-pros">
  <h3 class="gvf-pac-title"><span class="ez-toc-section" id="Best_Coworking_Spaces_in_Barcelona"></span>Best Coworking Spaces in Barcelona<span class="ez-toc-section-end"></span></h3>      <ul class="gvf-pac-items">
              <li >OneCoWork Plaça Catalunya

CREC
Cahoot
Betahaus
			</div>
			</div>
				</div>
	</div>
						</div>
	</section>
			<section class="elementor-section elementor-top-section elementor-element elementor-element-c2ba781 elementor-section-boxed elementor-section-height-default elementor-section-height-default" data-id="c2ba781" data-element_type="section">
					<div class="elementor-container elementor-column-gap-default">
				<div class="elementor-column elementor-col-100 elementor-top-column elementor-element elementor-element-d3c5564" data-id="d3c5564" data-element_type="column">
		<div class="elementor-widget-wrap elementor-element-populated">
							<div class="elementor-element elementor-element-fe1217d elementor-widget elementor-widget-text-editor" data-id="fe1217d" data-element_type="widget" data-widget_type="text-editor.default">
			<div class="elementor-widget-container">
						<h3><span class="ez-toc-section" id="Coliving_Spaces_Barcelona"></span>Coliving Spaces Barcelona<span class="ez-toc-section-end"></span></h3>						</div>
			</div>
				</div>
	</div>
						</div>
	</section>
			<section class="elementor-section elementor-top-section elementor-element elementor-element-ec38c98 elementor-section-boxed elementor-section-height-default elementor-section-height-default" data-id="ec38c98" data-element_type="section">
					<div class="elementor-container elementor-column-gap-default">
				<div class="elementor-column elementor-col-100 elementor-top-column elementor-element elementor-element-bbe13d5" data-id="bbe13d5" data-element_type="column">
		<div class="elementor-widget-wrap elementor-element-populated">
							<div class="elementor-element elementor-element-34cc08c elementor-widget elementor-widget-google_maps" data-id="34cc08c" data-element_type="widget" data-widget_type="google_maps.default">
			<div class="elementor-widget-container">
				<div class="elementor-custom-embed">
		<iframe frameborder="0" scrolling="no" marginheight="0" marginwidth="0"
				src="https://maps.google.com/maps?q=Coliving%20spaces%20Barcelona&#038;t=m&#038;z=10&#038;output=embed&#038;iwloc=near"
				title="Coliving spaces Barcelona"
				aria-label="Coliving spaces Barcelona"
		></iframe>
	</div>
			</div>
			</div>
				</div>
	</div>
						</div>
	</section>
			<section class="elementor-section elementor-top-section elementor-element elementor-element-38dacd6 elementor-section-boxed elementor-section-height-default elementor-section-height-default" data-id="38dacd6" data-element_type="section">
					<div class="elementor-container elementor-column-gap-default">
				<div class="elementor-column elementor-col-50 elementor-top-column elementor-element elementor-element-c401999" data-id="c401999" data-element_type="column">
		<div class="elementor-widget-wrap elementor-element-populated">
							<div class="elementor-element elementor-element-a4d2972 elementor-widget elementor-widget-gvf-pros-cons" data-id="a4d2972" data-element_type="widget" data-widget_type="gvf-pros-cons.default">
			<div class="elementor-widget-container">
		    <div class="gvf-pac gvf-pac-wrapper gvf-pac-pros">
  <h3 class="gvf-pac-title"><span class="ez-toc-section" id="Advantages_of_living_in_Barcelona"></span>Advantages of living in Barcelona<span class="ez-toc-section-end"></span></h3>      <ul class="gvf-pac-items">
              <li >Excellent public transport network</li>
              <li >Many leisure options</li>
              <li >Bustling nightlife</li>
              <li >Beach</li>
          </ul>
</div>

			</div>
			</div>
				</div>
	</div>
			<div class="elementor-column elementor-col-50 elementor-top-column elementor-element elementor-element-f05e141" data-id="f05e141" data-element_type="column">
		<div class="elementor-widget-wrap elementor-element-populated">
							<div class="elementor-element elementor-element-83137d8 elementor-widget elementor-widget-gvf-pros-cons" data-id="83137d8" data-element_type="widget" data-widget_type="gvf-pros-cons.default">
			<div class="elementor-widget-container">
		    <div class="gvf-pac gvf-pac-wrapper gvf-pac-cons">
  <h3 class="gvf-pac-title"><span class="ez-toc-section" id="Disadvantages_of_living_in_Barcelona"></span>Disadvantages of living in Barcelona<span class="ez-toc-section-end"></span></h3>      <ul class="gvf-pac-items">
              <li >Difficulty finding an apartment for rent</li>
              <li >Petty crimes 

			</div>
			</div>
				</div>
	</div>
						</div>
	</section>
			<section class="elementor-section elementor-top-section elementor-element elementor-element-dbfa495 elementor-section-boxed elementor-section-height-default elementor-section-height-default" data-id="dbfa495" data-element_type="section">
					<div class="elementor-container elementor-column-gap-default">
				<div class="elementor-column elementor-col-100 elementor-top-column elementor-element elementor-element-ab80e39" data-id="ab80e39" data-element_type="column">
		<div class="elementor-widget-wrap elementor-element-populated">
							<div class="elementor-element elementor-element-e042e72 elementor-widget elementor-widget-text-editor" data-id="e042e72" data-element_type="widget" data-widget_type="text-editor.default">
			<div class="elementor-widget-container">
						<h3><span class="ez-toc-section" id="Cost_of_Living_in_Barcelona"></span>Cost of Living in Barcelona<span class="ez-toc-section-end"></span></h3><ul><li>Estimated monthly costs for a single person are €750 (excluding rent)</li><li>Estimated rent for a 1-bedroom apartment in the city center: €967</li><li>Estimated rent for a 1-bedroom apartment outside the city center: €775</li></ul>						</div>
			</div>
				</div>
	</div>
						</div>
	</section>
			<section class="elementor-section elementor-top-section elementor-element elementor-element-1b4ba2a elementor-section-boxed elementor-section-height-default elementor-section-height-default" data-id="1b4ba2a" data-element_type="section">
					<div class="elementor-container elementor-column-gap-default">
				<div class="elementor-column elementor-col-100 elementor-top-column elementor-element elementor-element-ae59baa" data-id="ae59baa" data-element_type="column">
		<div class="elementor-widget-wrap elementor-element-populated">
							<div class="elementor-element elementor-element-d8945ed gvf-divider-style1 elementor-widget elementor-widget-gvf-divider" data-id="d8945ed" data-element_type="widget" data-widget_type="gvf-divider.default">
			<div class="elementor-widget-container">
		<div></div>		</div>
			</div>
				</div>
	</div>
						</div>
	</section>
			<section class="elementor-section elementor-top-section elementor-element elementor-element-4afb027 elementor-section-boxed elementor-section-height-default elementor-section-height-default" data-id="4afb027" data-element_type="section">
					<div class="elementor-container elementor-column-gap-default">
				<div class="elementor-column elementor-col-100 elementor-top-column elementor-element elementor-element-29f2957" data-id="29f2957" data-element_type="column">
		<div class="elementor-widget-wrap elementor-element-populated">
							<div class="elementor-element elementor-element-9f9f09f elementor-widget elementor-widget-text-editor" data-id="9f9f09f" data-element_type="widget" data-widget_type="text-editor.default">
			<div class="elementor-widget-container">
						<h2><span class="ez-toc-section" id="3_Valencia"></span><b>3. Valencia</b><span class="ez-toc-section-end"></span></h2><p><img loading="lazy" class="alignnone wp-image-25944 size-full" src="https://govisafree.com/wp-content/uploads/2022/03/valencia.jpg" alt="" width="715" height="475" srcset="https://govisafree.com/wp-content/uploads/2022/03/valencia.jpg 715w, https://govisafree.com/wp-content/uploads/2022/03/valencia-300x199.jpg 300w" sizes="(max-width: 715px) 100vw, 715px" /></p><p><span style="font-weight: 400;">The third-largest Spanish city is also in the third position in our ranking of the best cities in Spain to live in. One of the biggest attractions for digital nomads looking to live in Valencia is the pleasant climate combined with the presence of many green areas. Its location on Spain&#8217;s southeast coast makes it an ideal location for digital nomads who enjoy the beach and nice weather.</span></p><p><span style="font-weight: 400;">The city has a little town feel to it and you can easily bike everywhere. If you&#8217;re seeking a warm place with culture, a network of fellow digital nomads, and a reasonable cost of living, Valencia can be an ideal place for you.</span></p>						</div>
			</div>
				</div>
	</div>
						</div>
	</section>
			<section class="elementor-section elementor-top-section elementor-element elementor-element-c0e12ee elementor-section-boxed elementor-section-height-default elementor-section-height-default" data-id="c0e12ee" data-element_type="section">
					<div class="elementor-container elementor-column-gap-default">
				<div class="elementor-column elementor-col-100 elementor-top-column elementor-element elementor-element-98554d8" data-id="98554d8" data-element_type="column">
		<div class="elementor-widget-wrap elementor-element-populated">
							<div class="elementor-element elementor-element-d3f58d1 elementor-widget elementor-widget-gvf-pros-cons" data-id="d3f58d1" data-element_type="widget" data-widget_type="gvf-pros-cons.default">
			<div class="elementor-widget-container">
		    <div class="gvf-pac gvf-pac-wrapper gvf-pac-pros">
  <h3 class="gvf-pac-title"><span class="ez-toc-section" id="Best_Coworking_Spaces_in_Valencia"></span>Best Coworking Spaces in Valencia<span class="ez-toc-section-end"></span></h3>      <ul class="gvf-pac-items">
              <li >Botánico

Wayco Abastos
Vortex
Wayco
			</div>
			</div>
				</div>
	</div>
						</div>
	</section>
			<section class="elementor-section elementor-top-section elementor-element elementor-element-3daf6ac elementor-section-boxed elementor-section-height-default elementor-section-height-default" data-id="3daf6ac" data-element_type="section">
					<div class="elementor-container elementor-column-gap-default">
				<div class="elementor-column elementor-col-100 elementor-top-column elementor-element elementor-element-835ca5a" data-id="835ca5a" data-element_type="column">
		<div class="elementor-widget-wrap elementor-element-populated">
							<div class="elementor-element elementor-element-cbb478e elementor-widget elementor-widget-text-editor" data-id="cbb478e" data-element_type="widget" data-widget_type="text-editor.default">
			<div class="elementor-widget-container">
						<h3><span class="ez-toc-section" id="Coliving_Spaces_Valencia"></span>Coliving Spaces Valencia<span class="ez-toc-section-end"></span></h3>						</div>
			</div>
				</div>
	</div>
						</div>
	</section>
			<section class="elementor-section elementor-top-section elementor-element elementor-element-9a07e7a elementor-section-boxed elementor-section-height-default elementor-section-height-default" data-id="9a07e7a" data-element_type="section">
					<div class="elementor-container elementor-column-gap-default">
				<div class="elementor-column elementor-col-100 elementor-top-column elementor-element elementor-element-cf56d13" data-id="cf56d13" data-element_type="column">
		<div class="elementor-widget-wrap elementor-element-populated">
							<div class="elementor-element elementor-element-3a5bfed elementor-widget elementor-widget-google_maps" data-id="3a5bfed" data-element_type="widget" data-widget_type="google_maps.default">
			<div class="elementor-widget-container">
				<div class="elementor-custom-embed">
		<iframe frameborder="0" scrolling="no" marginheight="0" marginwidth="0"
				src="https://maps.google.com/maps?q=Coliving%20Spaces%20Valencia&#038;t=m&#038;z=10&#038;output=embed&#038;iwloc=near"
				title="Coliving Spaces Valencia"
				aria-label="Coliving Spaces Valencia"
		></iframe>
	</div>
			</div>
			</div>
				</div>
	</div>
						</div>
	</section>
			<section class="elementor-section elementor-top-section elementor-element elementor-element-3b52fe9 elementor-section-boxed elementor-section-height-default elementor-section-height-default" data-id="3b52fe9" data-element_type="section">
					<div class="elementor-container elementor-column-gap-default">
				<div class="elementor-column elementor-col-50 elementor-top-column elementor-element elementor-element-19f1719" data-id="19f1719" data-element_type="column">
		<div class="elementor-widget-wrap elementor-element-populated">
							<div class="elementor-element elementor-element-6f7c20c elementor-widget elementor-widget-gvf-pros-cons" data-id="6f7c20c" data-element_type="widget" data-widget_type="gvf-pros-cons.default">
			<div class="elementor-widget-container">
		    <div class="gvf-pac gvf-pac-wrapper gvf-pac-pros">
  <h3 class="gvf-pac-title"><span class="ez-toc-section" id="Advantages_of_living_in_Valencia"></span>Advantages of living in Valencia <span class="ez-toc-section-end"></span></h3>      <ul class="gvf-pac-items">
              <li >High-quality life</li>
              <li > Beaches</li>
          </ul>
</div>

			</div>
			</div>
				</div>
	</div>
			<div class="elementor-column elementor-col-50 elementor-top-column elementor-element elementor-element-14941a6" data-id="14941a6" data-element_type="column">
		<div class="elementor-widget-wrap elementor-element-populated">
							<div class="elementor-element elementor-element-0accaee elementor-widget elementor-widget-gvf-pros-cons" data-id="0accaee" data-element_type="widget" data-widget_type="gvf-pros-cons.default">
			<div class="elementor-widget-container">
		    <div class="gvf-pac gvf-pac-wrapper gvf-pac-cons">
  <h3 class="gvf-pac-title"><span class="ez-toc-section" id="Disadvantages_of_living_in_Valencia"></span>Disadvantages of living in Valencia <span class="ez-toc-section-end"></span></h3>      <ul class="gvf-pac-items">
              <li >Can be too hot in the summer</li>
          </ul>
</div>

			</div>
			</div>
				</div>
	</div>
						</div>
	</section>
			<section class="elementor-section elementor-top-section elementor-element elementor-element-277ddf1 elementor-section-boxed elementor-section-height-default elementor-section-height-default" data-id="277ddf1" data-element_type="section">
					<div class="elementor-container elementor-column-gap-default">
				<div class="elementor-column elementor-col-100 elementor-top-column elementor-element elementor-element-656f3f8" data-id="656f3f8" data-element_type="column">
		<div class="elementor-widget-wrap elementor-element-populated">
							<div class="elementor-element elementor-element-cd58ab1 elementor-widget elementor-widget-text-editor" data-id="cd58ab1" data-element_type="widget" data-widget_type="text-editor.default">
			<div class="elementor-widget-container">
						<h3><span class="ez-toc-section" id="Cost_of_Living_in_Valencia"></span>Cost of Living in Valencia<span class="ez-toc-section-end"></span></h3><ul><li>Estimated monthly costs for a single person are €650 (excluding rent)</li><li>Estimated rent for a 1-bedroom apartment in the city center: €680</li><li>Estimated rent for a 1-bedroom apartment outside the city center: €550</li></ul>						</div>
			</div>
				</div>
	</div>
						</div>
	</section>
			<section class="elementor-section elementor-top-section elementor-element elementor-element-078945e elementor-section-boxed elementor-section-height-default elementor-section-height-default" data-id="078945e" data-element_type="section">
					<div class="elementor-container elementor-column-gap-default">
				<div class="elementor-column elementor-col-100 elementor-top-column elementor-element elementor-element-e439c5d" data-id="e439c5d" data-element_type="column">
		<div class="elementor-widget-wrap elementor-element-populated">
							<div class="elementor-element elementor-element-fc4b6c3 gvf-divider-style1 elementor-widget elementor-widget-gvf-divider" data-id="fc4b6c3" data-element_type="widget" data-widget_type="gvf-divider.default">
			<div class="elementor-widget-container">
		<div></div>		</div>
			</div>
				</div>
	</div>
						</div>
	</section>
			<section class="elementor-section elementor-top-section elementor-element elementor-element-336a8c5 elementor-section-boxed elementor-section-height-default elementor-section-height-default" data-id="336a8c5" data-element_type="section">
					<div class="elementor-container elementor-column-gap-default">
				<div class="elementor-column elementor-col-100 elementor-top-column elementor-element elementor-element-6292df5" data-id="6292df5" data-element_type="column">
		<div class="elementor-widget-wrap elementor-element-populated">
							<div class="elementor-element elementor-element-e49eab6 elementor-widget elementor-widget-text-editor" data-id="e49eab6" data-element_type="widget" data-widget_type="text-editor.default">
			<div class="elementor-widget-container">
						<h2><span class="ez-toc-section" id="4_Bilbao"></span><b>4. Bilbao</b><span class="ez-toc-section-end"></span></h2><p><img loading="lazy" class="alignnone wp-image-25952 size-full" src="https://govisafree.com/wp-content/uploads/2022/03/bilbao.jpg" alt="" width="715" height="477" srcset="https://govisafree.com/wp-content/uploads/2022/03/bilbao.jpg 715w, https://govisafree.com/wp-content/uploads/2022/03/bilbao-300x200.jpg 300w" sizes="(max-width: 715px) 100vw, 715px" /></p><p><span style="font-weight: 400;">The next city on the list of the best cities in Spain to live in is Bilbao, in the Basque Country. Located in the north, close to the French border, Bilbao is a city with culture, lots of greenery, and many leisure options.</span></p><p><span style="font-weight: 400;">Bilbao is a great city to live in as a single digital nomad, thanks to its pubs and bustling nightlife. Even if you're a <a href="https://govisafree.com/digital-nomad-family/">digital nomad family</a>, you can find many kid-friendly attractions in Bilbao. Beaches and hiking are just a 30-minute train journey away, so there&#8217;s something for everyone here.</span></p><p><span style="font-weight: 400;">Just a note, don&#8217;t expect the usual hot weather and sunshine in Bilbao, even in the summer. It is frequently cloudy and rainy in this area. Despite this, the city boasts a plethora of attractions to keep you occupied in the rain, including a plethora of museums. </span></p>						</div>
			</div>
				</div>
	</div>
						</div>
	</section>
			<section class="elementor-section elementor-top-section elementor-element elementor-element-73d1a9e elementor-section-boxed elementor-section-height-default elementor-section-height-default" data-id="73d1a9e" data-element_type="section">
					<div class="elementor-container elementor-column-gap-default">
				<div class="elementor-column elementor-col-100 elementor-top-column elementor-element elementor-element-e33dbce" data-id="e33dbce" data-element_type="column">
		<div class="elementor-widget-wrap elementor-element-populated">
							<div class="elementor-element elementor-element-d4a9928 elementor-widget elementor-widget-gvf-pros-cons" data-id="d4a9928" data-element_type="widget" data-widget_type="gvf-pros-cons.default">
			<div class="elementor-widget-container">
		    <div class="gvf-pac gvf-pac-wrapper gvf-pac-pros">
  <h3 class="gvf-pac-title"><span class="ez-toc-section" id="Best_Coworking_Spaces_in_Bilbao"></span>Best Coworking Spaces in Bilbao<span class="ez-toc-section-end"></span></h3>      <ul class="gvf-pac-items">
              <li >Icaza

Biworking
Koop SF 34
			</div>
			</div>
				</div>
	</div>
						</div>
	</section>
			<section class="elementor-section elementor-top-section elementor-element elementor-element-d77716c elementor-section-boxed elementor-section-height-default elementor-section-height-default" data-id="d77716c" data-element_type="section">
					<div class="elementor-container elementor-column-gap-default">
				<div class="elementor-column elementor-col-100 elementor-top-column elementor-element elementor-element-1d91ce5" data-id="1d91ce5" data-element_type="column">
		<div class="elementor-widget-wrap elementor-element-populated">
							<div class="elementor-element elementor-element-8773209 elementor-widget elementor-widget-text-editor" data-id="8773209" data-element_type="widget" data-widget_type="text-editor.default">
			<div class="elementor-widget-container">
						<h3><span class="ez-toc-section" id="Coliving_Spaces_in_Bilbao"></span>Coliving Spaces in Bilbao<span class="ez-toc-section-end"></span></h3>						</div>
			</div>
				</div>
	</div>
						</div>
	</section>
			<section class="elementor-section elementor-top-section elementor-element elementor-element-0ba3ff2 elementor-section-boxed elementor-section-height-default elementor-section-height-default" data-id="0ba3ff2" data-element_type="section">
					<div class="elementor-container elementor-column-gap-default">
				<div class="elementor-column elementor-col-100 elementor-top-column elementor-element elementor-element-135f533" data-id="135f533" data-element_type="column">
		<div class="elementor-widget-wrap elementor-element-populated">
							<div class="elementor-element elementor-element-d56c059 elementor-widget elementor-widget-google_maps" data-id="d56c059" data-element_type="widget" data-widget_type="google_maps.default">
			<div class="elementor-widget-container">
				<div class="elementor-custom-embed">
		<iframe frameborder="0" scrolling="no" marginheight="0" marginwidth="0"
				src="https://maps.google.com/maps?q=El%20Bilbao%20Hostel%20Coliving%20&#038;t=m&#038;z=10&#038;output=embed&#038;iwloc=near"
				title="El Bilbao Hostel Coliving "
				aria-label="El Bilbao Hostel Coliving "
		></iframe>
	</div>
			</div>
			</div>
				</div>
	</div>
						</div>
	</section>
			<section class="elementor-section elementor-top-section elementor-element elementor-element-7f34865 elementor-section-boxed elementor-section-height-default elementor-section-height-default" data-id="7f34865" data-element_type="section">
					<div class="elementor-container elementor-column-gap-default">
				<div class="elementor-column elementor-col-50 elementor-top-column elementor-element elementor-element-36951bd" data-id="36951bd" data-element_type="column">
		<div class="elementor-widget-wrap elementor-element-populated">
							<div class="elementor-element elementor-element-b105560 elementor-widget elementor-widget-gvf-pros-cons" data-id="b105560" data-element_type="widget" data-widget_type="gvf-pros-cons.default">
			<div class="elementor-widget-container">
		    <div class="gvf-pac gvf-pac-wrapper gvf-pac-pros">
  <h3 class="gvf-pac-title"><span class="ez-toc-section" id="Advantages_of_living_in_Bilbao"></span>Advantages of living in Bilbao  <span class="ez-toc-section-end"></span></h3>      <ul class="gvf-pac-items">
              <li >Excellent gastronomy </li>
              <li >Many green areas</li>
          </ul>
</div>

			</div>
			</div>
				</div>
	</div>
			<div class="elementor-column elementor-col-50 elementor-top-column elementor-element elementor-element-856eef9" data-id="856eef9" data-element_type="column">
		<div class="elementor-widget-wrap elementor-element-populated">
							<div class="elementor-element elementor-element-032b90a elementor-widget elementor-widget-gvf-pros-cons" data-id="032b90a" data-element_type="widget" data-widget_type="gvf-pros-cons.default">
			<div class="elementor-widget-container">
		    <div class="gvf-pac gvf-pac-wrapper gvf-pac-cons">
  <h3 class="gvf-pac-title"><span class="ez-toc-section" id="Disadvantages_of_living_in_Bilbao"></span>Disadvantages of living in Bilbao<span class="ez-toc-section-end"></span></h3>      <ul class="gvf-pac-items">
              <li >Bad weather

Lack of coliving options
			</div>
			</div>
				</div>
	</div>
						</div>
	</section>
			<section class="elementor-section elementor-top-section elementor-element elementor-element-71a1a6a elementor-section-boxed elementor-section-height-default elementor-section-height-default" data-id="71a1a6a" data-element_type="section">
					<div class="elementor-container elementor-column-gap-default">
				<div class="elementor-column elementor-col-100 elementor-top-column elementor-element elementor-element-dce3999" data-id="dce3999" data-element_type="column">
		<div class="elementor-widget-wrap elementor-element-populated">
							<div class="elementor-element elementor-element-28289d0 elementor-widget elementor-widget-text-editor" data-id="28289d0" data-element_type="widget" data-widget_type="text-editor.default">
			<div class="elementor-widget-container">
						<h3><span class="ez-toc-section" id="Cost_of_Living_in_Bilbao"></span>Cost of Living in Bilbao<span class="ez-toc-section-end"></span></h3><ul><li>Estimated monthly costs for a single person are €720 (excluding rent)</li><li>Estimated rent for a 1-bedroom apartment in the city center: €880</li><li>Estimated rent for a 1-bedroom apartment outside the city center: €690</li></ul>						</div>
			</div>
				</div>
	</div>
						</div>
	</section>
			<section class="elementor-section elementor-top-section elementor-element elementor-element-34c6498 elementor-section-boxed elementor-section-height-default elementor-section-height-default" data-id="34c6498" data-element_type="section">
					<div class="elementor-container elementor-column-gap-default">
				<div class="elementor-column elementor-col-100 elementor-top-column elementor-element elementor-element-03346c3" data-id="03346c3" data-element_type="column">
		<div class="elementor-widget-wrap elementor-element-populated">
							<div class="elementor-element elementor-element-c106e3e gvf-divider-style1 elementor-widget elementor-widget-gvf-divider" data-id="c106e3e" data-element_type="widget" data-widget_type="gvf-divider.default">
			<div class="elementor-widget-container">
		<div></div>		</div>
			</div>
				</div>
	</div>
						</div>
	</section>
			<section class="elementor-section elementor-top-section elementor-element elementor-element-5e42673 elementor-section-boxed elementor-section-height-default elementor-section-height-default" data-id="5e42673" data-element_type="section">
					<div class="elementor-container elementor-column-gap-default">
				<div class="elementor-column elementor-col-100 elementor-top-column elementor-element elementor-element-770bcbd" data-id="770bcbd" data-element_type="column">
		<div class="elementor-widget-wrap elementor-element-populated">
							<div class="elementor-element elementor-element-293ddc0 elementor-widget elementor-widget-text-editor" data-id="293ddc0" data-element_type="widget" data-widget_type="text-editor.default">
			<div class="elementor-widget-container">
						<h2><span class="ez-toc-section" id="5_Seville"></span><b>5. Seville</b><span class="ez-toc-section-end"></span></h2><p><img loading="lazy" class="alignnone wp-image-25948 size-full" src="https://govisafree.com/wp-content/uploads/2022/03/seville.jpg" alt="" width="715" height="452" srcset="https://govisafree.com/wp-content/uploads/2022/03/seville.jpg 715w, https://govisafree.com/wp-content/uploads/2022/03/seville-300x190.jpg 300w" sizes="(max-width: 715px) 100vw, 715px" /></p><p><span style="font-weight: 400;">Listing the best cities in Spain to live in, we cannot leave out the capital of the Autonomous Community of Andalusia, the city of Seville. Seville is known for its Moorish buildings, some of which date back to the Golden Age, and for its lush surroundings and historic, centuries-old architecture.</span></p><p><span style="font-weight: 400;">Although Seville is Spain&#8217;s fourth-largest city, it has a quaint, small-town feel to it that is only enhanced by its nice climate and friendly locals. </span></p><p><span style="font-weight: 400;">Seville has a slow-paced way of life and is a good choice for digital nomads who are looking for a healthy work-life balance. It's also a good starting point for those who want to explore other Spanish cities or neighboring countries, such as Portugal.</span></p>						</div>
			</div>
				</div>
	</div>
						</div>
	</section>
			<section class="elementor-section elementor-top-section elementor-element elementor-element-aae4d7e elementor-section-boxed elementor-section-height-default elementor-section-height-default" data-id="aae4d7e" data-element_type="section">
					<div class="elementor-container elementor-column-gap-default">
				<div class="elementor-column elementor-col-100 elementor-top-column elementor-element elementor-element-bc49907" data-id="bc49907" data-element_type="column">
		<div class="elementor-widget-wrap elementor-element-populated">
							<div class="elementor-element elementor-element-3cb0305 elementor-widget elementor-widget-gvf-pros-cons" data-id="3cb0305" data-element_type="widget" data-widget_type="gvf-pros-cons.default">
			<div class="elementor-widget-container">
		    <div class="gvf-pac gvf-pac-wrapper gvf-pac-pros">
  <h3 class="gvf-pac-title"><span class="ez-toc-section" id="Best_Coworking_Spaces_in_Seville"></span>Best Coworking Spaces in Seville<span class="ez-toc-section-end"></span></h3>      <ul class="gvf-pac-items">
              <li >Arcadia

Espacio RES
Regus
			</div>
			</div>
				</div>
	</div>
						</div>
	</section>
			<section class="elementor-section elementor-top-section elementor-element elementor-element-8a08d04 elementor-section-boxed elementor-section-height-default elementor-section-height-default" data-id="8a08d04" data-element_type="section">
					<div class="elementor-container elementor-column-gap-default">
				<div class="elementor-column elementor-col-100 elementor-top-column elementor-element elementor-element-e6db130" data-id="e6db130" data-element_type="column">
		<div class="elementor-widget-wrap elementor-element-populated">
							<div class="elementor-element elementor-element-38a154a elementor-widget elementor-widget-text-editor" data-id="38a154a" data-element_type="widget" data-widget_type="text-editor.default">
			<div class="elementor-widget-container">
						<h3><span class="ez-toc-section" id="Coliving_Spaces_in_Seville"></span>Coliving Spaces in Seville<span class="ez-toc-section-end"></span></h3>						</div>
			</div>
				</div>
	</div>
						</div>
	</section>
			<section class="elementor-section elementor-top-section elementor-element elementor-element-ca60f70 elementor-section-boxed elementor-section-height-default elementor-section-height-default" data-id="ca60f70" data-element_type="section">
					<div class="elementor-container elementor-column-gap-default">
				<div class="elementor-column elementor-col-100 elementor-top-column elementor-element elementor-element-de5a95b" data-id="de5a95b" data-element_type="column">
		<div class="elementor-widget-wrap elementor-element-populated">
							<div class="elementor-element elementor-element-43bc28a elementor-widget elementor-widget-google_maps" data-id="43bc28a" data-element_type="widget" data-widget_type="google_maps.default">
			<div class="elementor-widget-container">
				<div class="elementor-custom-embed">
		<iframe frameborder="0" scrolling="no" marginheight="0" marginwidth="0"
				src="https://maps.google.com/maps?q=Seville%20coliving&#038;t=m&#038;z=10&#038;output=embed&#038;iwloc=near"
				title="Seville coliving"
				aria-label="Seville coliving"
		></iframe>
	</div>
			</div>
			</div>
				</div>
	</div>
						</div>
	</section>
			<section class="elementor-section elementor-top-section elementor-element elementor-element-8ec643a elementor-section-boxed elementor-section-height-default elementor-section-height-default" data-id="8ec643a" data-element_type="section">
					<div class="elementor-container elementor-column-gap-default">
				<div class="elementor-column elementor-col-50 elementor-top-column elementor-element elementor-element-c4c8ca7" data-id="c4c8ca7" data-element_type="column">
		<div class="elementor-widget-wrap elementor-element-populated">
							<div class="elementor-element elementor-element-cc9aa3e elementor-widget elementor-widget-gvf-pros-cons" data-id="cc9aa3e" data-element_type="widget" data-widget_type="gvf-pros-cons.default">
			<div class="elementor-widget-container">
		    <div class="gvf-pac gvf-pac-wrapper gvf-pac-pros">
  <h3 class="gvf-pac-title"><span class="ez-toc-section" id="Advantages_of_living_in_Seville"></span>Advantages of living in Seville<span class="ez-toc-section-end"></span></h3>      <ul class="gvf-pac-items">
              <li >Excellent gastronomy</li>
              <li >Low cost of living

Nice climate
			</div>
			</div>
				</div>
	</div>
			<div class="elementor-column elementor-col-50 elementor-top-column elementor-element elementor-element-ff61936" data-id="ff61936" data-element_type="column">
		<div class="elementor-widget-wrap elementor-element-populated">
							<div class="elementor-element elementor-element-a5ef2a8 elementor-widget elementor-widget-gvf-pros-cons" data-id="a5ef2a8" data-element_type="widget" data-widget_type="gvf-pros-cons.default">
			<div class="elementor-widget-container">
		    <div class="gvf-pac gvf-pac-wrapper gvf-pac-cons">
  <h3 class="gvf-pac-title"><span class="ez-toc-section" id="Disadvantages_of_living_in_Seville"></span>Disadvantages of living in Seville<span class="ez-toc-section-end"></span></h3>      <ul class="gvf-pac-items">
              <li >Public transport </li>
              <li >Excessive heat in summer</li>
          </ul>
</div>

			</div>
			</div>
				</div>
	</div>
						</div>
	</section>
			<section class="elementor-section elementor-top-section elementor-element elementor-element-b517142 elementor-section-boxed elementor-section-height-default elementor-section-height-default" data-id="b517142" data-element_type="section">
					<div class="elementor-container elementor-column-gap-default">
				<div class="elementor-column elementor-col-100 elementor-top-column elementor-element elementor-element-769dd53" data-id="769dd53" data-element_type="column">
		<div class="elementor-widget-wrap elementor-element-populated">
							<div class="elementor-element elementor-element-be3be8f elementor-widget elementor-widget-text-editor" data-id="be3be8f" data-element_type="widget" data-widget_type="text-editor.default">
			<div class="elementor-widget-container">
						<h3><span class="ez-toc-section" id="Cost_of_Living_in_Seville"></span>Cost of Living in Seville<span class="ez-toc-section-end"></span></h3><ul><li>Estimated monthly costs for a single person are €650 (excluding rent)</li><li>Estimated rent for a 1-bedroom apartment in the city center: €670</li><li>Estimated rent for a 1-bedroom apartment outside the city center: €520</li></ul>						</div>
			</div>
				</div>
	</div>
						</div>
	</section>
			<section class="elementor-section elementor-top-section elementor-element elementor-element-041bc39 elementor-section-boxed elementor-section-height-default elementor-section-height-default" data-id="041bc39" data-element_type="section">
					<div class="elementor-container elementor-column-gap-default">
				<div class="elementor-column elementor-col-100 elementor-top-column elementor-element elementor-element-d666c0d" data-id="d666c0d" data-element_type="column">
		<div class="elementor-widget-wrap elementor-element-populated">
							<div class="elementor-element elementor-element-e2404c6 gvf-divider-style1 elementor-widget elementor-widget-gvf-divider" data-id="e2404c6" data-element_type="widget" data-widget_type="gvf-divider.default">
			<div class="elementor-widget-container">
		<div></div>		</div>
			</div>
				</div>
	</div>
						</div>
	</section>
			<section class="elementor-section elementor-top-section elementor-element elementor-element-9ebcab5 elementor-section-boxed elementor-section-height-default elementor-section-height-default" data-id="9ebcab5" data-element_type="section">
					<div class="elementor-container elementor-column-gap-default">
				<div class="elementor-column elementor-col-100 elementor-top-column elementor-element elementor-element-18004cc" data-id="18004cc" data-element_type="column">
		<div class="elementor-widget-wrap elementor-element-populated">
							<div class="elementor-element elementor-element-8a3ef41 elementor-widget elementor-widget-text-editor" data-id="8a3ef41" data-element_type="widget" data-widget_type="text-editor.default">
			<div class="elementor-widget-container">
						<h2><span class="ez-toc-section" id="6_Alicante"></span><b>6. Alicante</b><span class="ez-toc-section-end"></span></h2><p><img loading="lazy" class="alignnone wp-image-25953 size-full" src="https://govisafree.com/wp-content/uploads/2022/03/alicante.jpg" alt="" width="715" height="477" srcset="https://govisafree.com/wp-content/uploads/2022/03/alicante.jpg 715w, https://govisafree.com/wp-content/uploads/2022/03/alicante-300x200.jpg 300w" sizes="(max-width: 715px) 100vw, 715px" /></p><p><span style="font-weight: 400;">Alicante is a historic Mediterranean city on Spain&#8217;s Costa Blanca and is highly favored among British expats. If you want to live in a place that offers great beaches, nice weather, and delicious seafood, Alicante might be ideal for you.</span></p><p><span style="font-weight: 400;">When you make Alicante your base, you&#8217;ll have access to bays, coves, and some of Spain&#8217;s most stunning beaches within a short drive. It's also a great place to live if you want to try sea sports. Also note that </span><span style="font-weight: 400;">when compared to Valencia, its neighbor, Alicante has a much lower cost of living. This includes the price of properties, both for rent and purchase.</span></p>						</div>
			</div>
				</div>
	</div>
						</div>
	</section>
			<section class="elementor-section elementor-top-section elementor-element elementor-element-3804515 elementor-section-boxed elementor-section-height-default elementor-section-height-default" data-id="3804515" data-element_type="section">
					<div class="elementor-container elementor-column-gap-default">
				<div class="elementor-column elementor-col-100 elementor-top-column elementor-element elementor-element-7bd3919" data-id="7bd3919" data-element_type="column">
		<div class="elementor-widget-wrap elementor-element-populated">
							<div class="elementor-element elementor-element-2d9612d elementor-widget elementor-widget-gvf-pros-cons" data-id="2d9612d" data-element_type="widget" data-widget_type="gvf-pros-cons.default">
			<div class="elementor-widget-container">
		    <div class="gvf-pac gvf-pac-wrapper gvf-pac-pros">
  <h3 class="gvf-pac-title"><span class="ez-toc-section" id="Best_Coworking_Spaces_in_Alicante"></span>Best Coworking Spaces in Alicante<span class="ez-toc-section-end"></span></h3>      <ul class="gvf-pac-items">
              <li >PortalSeis

Terretup
Aliworking
			</div>
			</div>
				</div>
	</div>
						</div>
	</section>
			<section class="elementor-section elementor-top-section elementor-element elementor-element-0a036b4 elementor-section-boxed elementor-section-height-default elementor-section-height-default" data-id="0a036b4" data-element_type="section">
					<div class="elementor-container elementor-column-gap-default">
				<div class="elementor-column elementor-col-100 elementor-top-column elementor-element elementor-element-05402ba" data-id="05402ba" data-element_type="column">
		<div class="elementor-widget-wrap elementor-element-populated">
							<div class="elementor-element elementor-element-c8b3418 elementor-widget elementor-widget-text-editor" data-id="c8b3418" data-element_type="widget" data-widget_type="text-editor.default">
			<div class="elementor-widget-container">
						<h3><span class="ez-toc-section" id="Coliving_Spaces_in_Alicante"></span>Coliving Spaces in Alicante<span class="ez-toc-section-end"></span></h3>						</div>
			</div>
				</div>
	</div>
						</div>
	</section>
			<section class="elementor-section elementor-top-section elementor-element elementor-element-d51fe43 elementor-section-boxed elementor-section-height-default elementor-section-height-default" data-id="d51fe43" data-element_type="section">
					<div class="elementor-container elementor-column-gap-default">
				<div class="elementor-column elementor-col-100 elementor-top-column elementor-element elementor-element-5fd32e8" data-id="5fd32e8" data-element_type="column">
		<div class="elementor-widget-wrap elementor-element-populated">
							<div class="elementor-element elementor-element-914e763 elementor-widget elementor-widget-google_maps" data-id="914e763" data-element_type="widget" data-widget_type="google_maps.default">
			<div class="elementor-widget-container">
				<div class="elementor-custom-embed">
		<iframe frameborder="0" scrolling="no" marginheight="0" marginwidth="0"
				src="https://maps.google.com/maps?q=carob%20tree%20alicante&#038;t=m&#038;z=10&#038;output=embed&#038;iwloc=near"
				title="carob tree alicante"
				aria-label="carob tree alicante"
		></iframe>
	</div>
			</div>
			</div>
				</div>
	</div>
						</div>
	</section>
			<section class="elementor-section elementor-top-section elementor-element elementor-element-851f8db elementor-section-boxed elementor-section-height-default elementor-section-height-default" data-id="851f8db" data-element_type="section">
					<div class="elementor-container elementor-column-gap-default">
				<div class="elementor-column elementor-col-50 elementor-top-column elementor-element elementor-element-0590849" data-id="0590849" data-element_type="column">
		<div class="elementor-widget-wrap elementor-element-populated">
							<div class="elementor-element elementor-element-5d84391 elementor-widget elementor-widget-gvf-pros-cons" data-id="5d84391" data-element_type="widget" data-widget_type="gvf-pros-cons.default">
			<div class="elementor-widget-container">
		    <div class="gvf-pac gvf-pac-wrapper gvf-pac-pros">
  <h3 class="gvf-pac-title"><span class="ez-toc-section" id="Advantages_of_living_in_Alicante"></span>Advantages of living in Alicante<span class="ez-toc-section-end"></span></h3>      <ul class="gvf-pac-items">
              <li >Less traffic</li>
              <li >Low cost of living</li>
              <li >Nice climate</li>
          </ul>
</div>

			</div>
			</div>
				</div>
	</div>
			<div class="elementor-column elementor-col-50 elementor-top-column elementor-element elementor-element-d26ae2a" data-id="d26ae2a" data-element_type="column">
		<div class="elementor-widget-wrap elementor-element-populated">
							<div class="elementor-element elementor-element-4a2560b elementor-widget elementor-widget-gvf-pros-cons" data-id="4a2560b" data-element_type="widget" data-widget_type="gvf-pros-cons.default">
			<div class="elementor-widget-container">
		    <div class="gvf-pac gvf-pac-wrapper gvf-pac-cons">
  <h3 class="gvf-pac-title"><span class="ez-toc-section" id="Disadvantages_of_living_in_Alicante"></span>Disadvantages of living in Alicante<span class="ez-toc-section-end"></span></h3>      <ul class="gvf-pac-items">
              <li >The slow pace of life</li>
          </ul>
</div>

			</div>
			</div>
				</div>
	</div>
						</div>
	</section>
			<section class="elementor-section elementor-top-section elementor-element elementor-element-adb5c62 elementor-section-boxed elementor-section-height-default elementor-section-height-default" data-id="adb5c62" data-element_type="section">
					<div class="elementor-container elementor-column-gap-default">
				<div class="elementor-column elementor-col-100 elementor-top-column elementor-element elementor-element-7d5ae52" data-id="7d5ae52" data-element_type="column">
		<div class="elementor-widget-wrap elementor-element-populated">
							<div class="elementor-element elementor-element-5e94491 elementor-widget elementor-widget-text-editor" data-id="5e94491" data-element_type="widget" data-widget_type="text-editor.default">
			<div class="elementor-widget-container">
						<h3><span class="ez-toc-section" id="Cost_of_Living_in_Alicante"></span>Cost of Living in Alicante<span class="ez-toc-section-end"></span></h3><ul><li>Estimated monthly costs for a single person are €620 (excluding rent)</li><li>Estimated rent for a 1-bedroom apartment in the city center: €680</li><li>Estimated rent for a 1-bedroom apartment outside the city center: €530</li></ul>						</div>
			</div>
				</div>
	</div>
						</div>
	</section>
			<section class="elementor-section elementor-top-section elementor-element elementor-element-ecba3e0 elementor-section-boxed elementor-section-height-default elementor-section-height-default" data-id="ecba3e0" data-element_type="section">
					<div class="elementor-container elementor-column-gap-default">
				<div class="elementor-column elementor-col-100 elementor-top-column elementor-element elementor-element-1e05b20" data-id="1e05b20" data-element_type="column">
		<div class="elementor-widget-wrap elementor-element-populated">
							<div class="elementor-element elementor-element-d378e04 gvf-divider-style1 elementor-widget elementor-widget-gvf-divider" data-id="d378e04" data-element_type="widget" data-widget_type="gvf-divider.default">
			<div class="elementor-widget-container">
		<div></div>		</div>
			</div>
				</div>
	</div>
						</div>
	</section>
			<section class="elementor-section elementor-top-section elementor-element elementor-element-231775d elementor-section-boxed elementor-section-height-default elementor-section-height-default" data-id="231775d" data-element_type="section">
					<div class="elementor-container elementor-column-gap-default">
				<div class="elementor-column elementor-col-100 elementor-top-column elementor-element elementor-element-73a53f0" data-id="73a53f0" data-element_type="column">
		<div class="elementor-widget-wrap elementor-element-populated">
							<div class="elementor-element elementor-element-e793716 elementor-widget elementor-widget-text-editor" data-id="e793716" data-element_type="widget" data-widget_type="text-editor.default">
			<div class="elementor-widget-container">
						<h2><span class="ez-toc-section" id="7_Malaga"></span><b>7. Malaga</b><span class="ez-toc-section-end"></span></h2><p><img loading="lazy" class="alignnone wp-image-25954 size-full" src="https://govisafree.com/wp-content/uploads/2022/03/malaga.jpg" alt="" width="715" height="464" srcset="https://govisafree.com/wp-content/uploads/2022/03/malaga.jpg 715w, https://govisafree.com/wp-content/uploads/2022/03/malaga-300x195.jpg 300w" sizes="(max-width: 715px) 100vw, 715px" /></p><p><span style="font-weight: 400;">Thanks to its climate, transportation, location, culture, and way of life, Malaga is rapidly becoming a major hub for digital nomads. Situated in the Costa del Sol, Malaga is a perfect base if you're looking to live near the beach.</span></p><p><span style="font-weight: 400;">The temperature is most likely the biggest reason why digital nomads choose Malaga. Malaga is the place to be in terms of climate, with 300 days of sunshine each year and temperatures reaching 24 degrees in February. </span></p><p><span style="font-weight: 400;">Malaga is beginning to flourish in the technology industry thanks to large-scale investments. Google&#8217;s cybersecurity headquarters will be located in Malaga. This significant investment has attracted other companies which will increase the city's popularity among international companies.</span></p>						</div>
			</div>
				</div>
	</div>
						</div>
	</section>
			<section class="elementor-section elementor-top-section elementor-element elementor-element-6af679f elementor-section-boxed elementor-section-height-default elementor-section-height-default" data-id="6af679f" data-element_type="section">
					<div class="elementor-container elementor-column-gap-default">
				<div class="elementor-column elementor-col-100 elementor-top-column elementor-element elementor-element-576fe1b" data-id="576fe1b" data-element_type="column">
		<div class="elementor-widget-wrap elementor-element-populated">
							<div class="elementor-element elementor-element-63828cb elementor-widget elementor-widget-gvf-pros-cons" data-id="63828cb" data-element_type="widget" data-widget_type="gvf-pros-cons.default">
			<div class="elementor-widget-container">
		    <div class="gvf-pac gvf-pac-wrapper gvf-pac-pros">
  <h3 class="gvf-pac-title"><span class="ez-toc-section" id="Best_Coworking_Spaces_in_Malaga"></span>Best Coworking Spaces in Malaga <span class="ez-toc-section-end"></span></h3>      <ul class="gvf-pac-items">
              <li >The Living Room

Innovation Campus
Beworking
Grow Working
			</div>
			</div>
				</div>
	</div>
						</div>
	</section>
			<section class="elementor-section elementor-top-section elementor-element elementor-element-00ac944 elementor-section-boxed elementor-section-height-default elementor-section-height-default" data-id="00ac944" data-element_type="section">
					<div class="elementor-container elementor-column-gap-default">
				<div class="elementor-column elementor-col-100 elementor-top-column elementor-element elementor-element-e83dc21" data-id="e83dc21" data-element_type="column">
		<div class="elementor-widget-wrap elementor-element-populated">
							<div class="elementor-element elementor-element-847756d elementor-widget elementor-widget-text-editor" data-id="847756d" data-element_type="widget" data-widget_type="text-editor.default">
			<div class="elementor-widget-container">
						<h3><span class="ez-toc-section" id="Coliving_Spaces_in_Malaga"></span>Coliving Spaces in Malaga<span class="ez-toc-section-end"></span></h3>						</div>
			</div>
				</div>
	</div>
						</div>
	</section>
			<section class="elementor-section elementor-top-section elementor-element elementor-element-003094d elementor-section-boxed elementor-section-height-default elementor-section-height-default" data-id="003094d" data-element_type="section">
					<div class="elementor-container elementor-column-gap-default">
				<div class="elementor-column elementor-col-100 elementor-top-column elementor-element elementor-element-f1d258e" data-id="f1d258e" data-element_type="column">
		<div class="elementor-widget-wrap elementor-element-populated">
							<div class="elementor-element elementor-element-b5f3ee8 elementor-widget elementor-widget-google_maps" data-id="b5f3ee8" data-element_type="widget" data-widget_type="google_maps.default">
			<div class="elementor-widget-container">
				<div class="elementor-custom-embed">
		<iframe frameborder="0" scrolling="no" marginheight="0" marginwidth="0"
				src="https://maps.google.com/maps?q=coliving%20malaga&#038;t=m&#038;z=10&#038;output=embed&#038;iwloc=near"
				title="coliving malaga"
				aria-label="coliving malaga"
		></iframe>
	</div>
			</div>
			</div>
				</div>
	</div>
						</div>
	</section>
			<section class="elementor-section elementor-top-section elementor-element elementor-element-0b803c9 elementor-section-boxed elementor-section-height-default elementor-section-height-default" data-id="0b803c9" data-element_type="section">
					<div class="elementor-container elementor-column-gap-default">
				<div class="elementor-column elementor-col-50 elementor-top-column elementor-element elementor-element-32dc331" data-id="32dc331" data-element_type="column">
		<div class="elementor-widget-wrap elementor-element-populated">
							<div class="elementor-element elementor-element-0eeef20 elementor-widget elementor-widget-gvf-pros-cons" data-id="0eeef20" data-element_type="widget" data-widget_type="gvf-pros-cons.default">
			<div class="elementor-widget-container">
		    <div class="gvf-pac gvf-pac-wrapper gvf-pac-pros">
  <h3 class="gvf-pac-title"><span class="ez-toc-section" id="Advantages_of_living_in_Malaga"></span>Advantages of living in Malaga <span class="ez-toc-section-end"></span></h3>      <ul class="gvf-pac-items">
              <li >Entrepreneurship ecosystem</li>
              <li >Low cost of living

Nice climate
			</div>
			</div>
				</div>
	</div>
			<div class="elementor-column elementor-col-50 elementor-top-column elementor-element elementor-element-74bc8a9" data-id="74bc8a9" data-element_type="column">
		<div class="elementor-widget-wrap elementor-element-populated">
							<div class="elementor-element elementor-element-56cfa67 elementor-widget elementor-widget-gvf-pros-cons" data-id="56cfa67" data-element_type="widget" data-widget_type="gvf-pros-cons.default">
			<div class="elementor-widget-container">
		    <div class="gvf-pac gvf-pac-wrapper gvf-pac-cons">
  <h3 class="gvf-pac-title"><span class="ez-toc-section" id="Disadvantages_of_living_in_Malaga"></span>Disadvantages of living in Malaga<span class="ez-toc-section-end"></span></h3>      <ul class="gvf-pac-items">
              <li >Safety can be an issue</li>
          </ul>
</div>

			</div>
			</div>
				</div>
	</div>
						</div>
	</section>
			<section class="elementor-section elementor-top-section elementor-element elementor-element-25ac253 elementor-section-boxed elementor-section-height-default elementor-section-height-default" data-id="25ac253" data-element_type="section">
					<div class="elementor-container elementor-column-gap-default">
				<div class="elementor-column elementor-col-100 elementor-top-column elementor-element elementor-element-1fbbe68" data-id="1fbbe68" data-element_type="column">
		<div class="elementor-widget-wrap elementor-element-populated">
							<div class="elementor-element elementor-element-2f01e42 elementor-widget elementor-widget-text-editor" data-id="2f01e42" data-element_type="widget" data-widget_type="text-editor.default">
			<div class="elementor-widget-container">
						<h3><span class="ez-toc-section" id="Cost_of_Living_in_Malaga"></span>Cost of Living in Malaga<span class="ez-toc-section-end"></span></h3><ul><li>Estimated monthly costs for a single person are €620 (excluding rent)</li><li>Estimated rent for a 1-bedroom apartment in the city center: €720</li><li>Estimated rent for a 1-bedroom apartment outside the city center: €570</li></ul>						</div>
			</div>
				</div>
	</div>
						</div>
	</section>
			<section class="elementor-section elementor-top-section elementor-element elementor-element-1e62b25 elementor-section-boxed elementor-section-height-default elementor-section-height-default" data-id="1e62b25" data-element_type="section">
					<div class="elementor-container elementor-column-gap-default">
				<div class="elementor-column elementor-col-100 elementor-top-column elementor-element elementor-element-58ca7ad" data-id="58ca7ad" data-element_type="column">
		<div class="elementor-widget-wrap elementor-element-populated">
							<div class="elementor-element elementor-element-c18b8b0 elementor-widget elementor-widget-text-editor" data-id="c18b8b0" data-element_type="widget" data-widget_type="text-editor.default">
			<div class="elementor-widget-container">
						<h2><span class="ez-toc-section" id="The_Bottom_Line"></span><strong>The Bottom Line </strong><span class="ez-toc-section-end"></span></h2><p><span style="font-weight: 400;">There you have it. We've tried to give you an overview of the best cities in Spain for digital nomads. Spain is a beautiful country offering different places with different characteristics. Where you decide to move to, you can rest assured that you'll have a great experience.</span></p><p><span style="font-weight: 400;">Have you ever lived in Spain? Let us know&#8230;</span></p>						</div>
			</div>
				</div>
	</div>
						</div>
	</section>
					</div>
				</div>